EzyFit Roller Shutters Bushfire Shutters – Australia's hot, dry climate means the country is prone to bushfires during the warmer months. And studies show that bushfire frequency is increasing. The number of bushfires per week in Australia increased by 58 percent between 2008 and 2017 (NASA satellite data) and experts predict it will continue to increase.
EzyFit Roller Shutters are a great investment to defend your home against bushfires.
Protect Against Radiant Heat to Prevent Glass Cracking
Our bushfire shutters help protect against flying embers, debris, and glass from cracking. In a bushfire, the most vulnerable part of your property is the windows. EzyFit's Bushfire Shutters keep your windows concealed and protected against radiant heat which can cause windows to break. Our BAL-40 shutters provide radiant heat shielding up to 40kwm2.
Provide BAL-40 Protection
EzyFit Bushfire Roller Shutters are BAL-40 meaning they provide nearly the maximum bushfire protection available. They were tested and comply with Australian Bushfire Construction Standard AS3959-2009*
In the Australian Standard AS3959, they have classified different bushfire intensity levels that a home may experience during a bushfire. These are referred to as Bushfire Attack Levels, or BALs for short. There are six bushfire attack levels in total.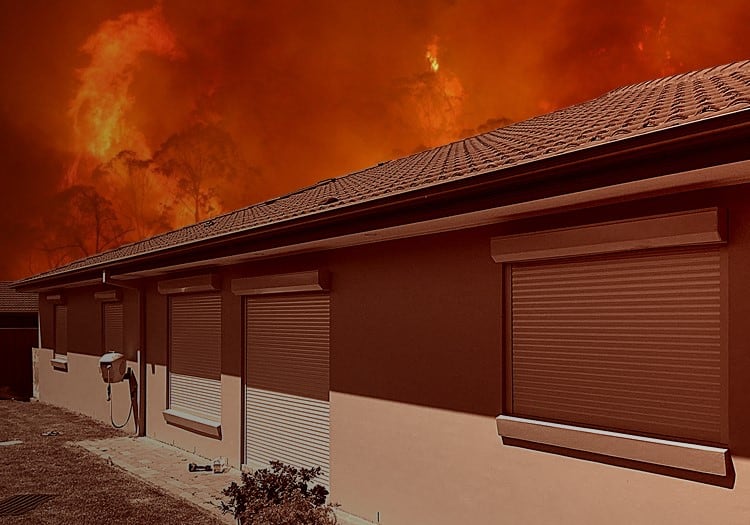 What separates BAL40 shutters from other shutters
Comes with a csiro test for Bal40 rating
Aesthetics:Compact pelmet box, 13 top Colorbond colours
Excellent for:Bushfire protection, Security, Light Control & blocking, Noise Reduction
Good for:glare reduction climate control, energy savings
Other shutters to consider :there are no other roller shutters to consider if you are requiring a Bal40 rated roller shutter
Heavy Duty Strength
Ezyit Roller Shutters are made from high quality, strong aluminium alloy. They are made with a commercial grade double wall extruded profile for heavy duty strength and extreme heat protection. Our shutters are finished in high quality powder coated finish for maximum abrasion resistance. This helps to make them more flame resistant to protect the structure of your home.
Made for Australian Conditions
At Ezyit Roller Shutters, all of our shutters are designed and manufactured with Australian weather conditions in mind. They are made to be durable against storms and bushfires.
Other benefits include:
Maximum security
60% noise reduction
15° cooler in summer
15° warmer in winter
98% light block out
25% more energy efficient
Secure, built-in locking mechanism
Eliminates condensation
Reduces glare
Rust prevention: 95% components aluminium
If you're in a bushfire prone area, bushfire shutters are not only a great investment but they may just save your property and home. Contact our team today for a free online quote for bushfire shutters.
Speak with one of our sales team today about getting your own BAL fire shutters and remember: no roller shutters are fireproof. They're bush fire resistant.
So what's stopping you? call us now on 1300 EZYFIT
We would like everyone to enjoy the security and lifestyle benefits of EzyFit DIY Roller Shutters. Whether you live in urban or rural areas, you can purchase our roller shutters online, with free delivery* Australia-wide!
* Conditions please check with office before